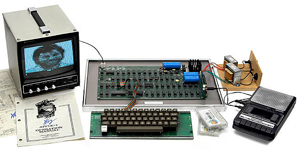 Have you been longing for a working Apple 1 computer? Or maybe a reproduction of a Pascaline? This Saturday, May 25 at 10:00 am (CET) you'll get your chance when  Auction Team Breker of Cologne, Germany, holds an auction of "Mechanical Musik Instruments as well as Science Technology and Fine Toys & Automata." Along with the Apple 1—one of only six surviving functional ones known to exist—which they expect will fetch about $400,000, is an experimental 17th century mechanical calculator, a hundred-year-old telephone,  and an original Apple Lisa.
You can mail or fax your bids (sorry, no emailing!). More information — and bid forms —are available from the Team Breker site. You can also learn more at CNN.com
Postscript: The 1976 Apple 1, which bears Steve Wozniak's signature, was reportedly sold for a record $668,000 to an unnamed Asian bidder.