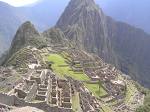 I have a close relative who's traveled the world. She's climbed Mt. Kilimanjaro. She rode on a dilapidated bus through the Khyber Pass, on her way to India along the famous "Hippie Trail." She visited Machu Picchu and taught at a school in East Africa. Even though my work involves travel, I am an armchair traveler, not an Indiana Jones. I don't want to be near the Khyber Pass nowadays anyway.
But there is one thing I've done that few others can claim. I've touched the Internet.
That happened when I was writing my book about Tysons Corner, Virginia. Among the places I was interested in was MAE East: the east coast network access point (NAP) that connected regional networks to the Internet backbone. Around 1990, as control of the backbone was being transferred from the National Science Foundation to private ownership, a company called Metropolitan Fiber Systems (MFS) led the way by establishing these NAPs. Legend had it that MAE East was the granddaddy of all the switches—with up to 50% of the world's Internet traffic passing through it.
The MAE East web site implies that it is no longer in a single place, but dispersed along the Dulles Corridor. That was no surprise to me, but still, I wondered if I could find some vestiges of it. A local real-estate developer gave me one clue—during the dot.com bubble she was only too happy to rent office space to Internet start-ups wanting to be close to this switch. Going through Google's repository of old Usenet postings gave some more clues.  The Wayback Machine sent me to a mysterious undocumented photo of an empty parking garage. I wandered into the garage where I thought the photo was taken (telling the attendant that I was getting lunch at a deli in the building). Nothing. While writing down the names of the businesses listed on the building's directory I was challenged by a security guard, who obviously didn't buy my story about the deli. I had to leave. Outside, a number of young men, dressed in crisp khakis and wearing polo shirts embroidered with the name of a network company, chatted in accented English. I was close.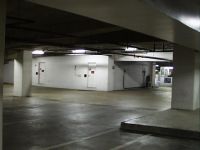 Walking around Tysons Corner is not as dangerous as climbing Mt. Kilimanjaro, but one must be careful. There are few sidewalks, and pedestrians are so seldom seen that drivers don't know what to do when they encounter one. While walking carefully along a back street, I passed by a construction site. Along one side of the street was a number of utility covers, many with the name "MFS" stamped on them. In bright orange paint, workers had spray painted warnings not to dig, or to be careful with backhoes and other earth-moving machinery. Along with these warnings were spray-painted the names of those whose cables were under those covers: MCI, Level 3, MFS, Verizon, Sprint, Cable & Wireless, etc. -- over a dozen, encompassing all the major backbone providers and many of the major ISPs of that day.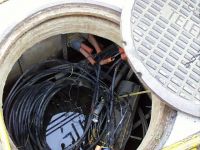 I had found it. Regardless of the dispersion of the switches after 9/11, here was a major switching point—perhaps still the major switching point--for Internet traffic. I stepped on the cover. Was this how Hiram Bingham felt when he found the lost city of the Incas? Maybe not, but on that day, it felt good to touch the Internet.