You have probably heard the news about the failure of Amazon's Cloud computing services, in spite of their claim that it was geographically dispersed, redundant, etc. This is a relatively new phenomenon, but Martin Campbell-Kelly discussed its early genesis in his chapter in our book The Internet & American Business (Aspray & Ceruzzi, 2008) (shameless plug). Anyway, I did some sleuthing & found the location: in Ashburn, Virginia, an old farming community just north of Dulles Airport, at the west end of "Internet Alley" (another shameless plug). Old maps show the town as "Farmwell," but it was renamed after a tree that caught fire from a lightning strike.  When I was writing Internet Alley the center of internet data switching and storage was in Tysons Corner, Virginia; now it has shifted west to this little town.
So in spite of the term used to describe it, the "cloud" is not up there; it is right here on the ground.  If you want to see these places, the best way is to rent a bicycle and ride along the W&OD rail-trail.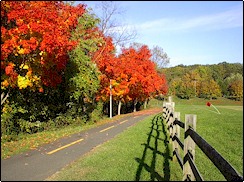 Revision of July 2011: The photo is of a typical view of the trail near Ashburn. For another view of the Cloud, look  Here .